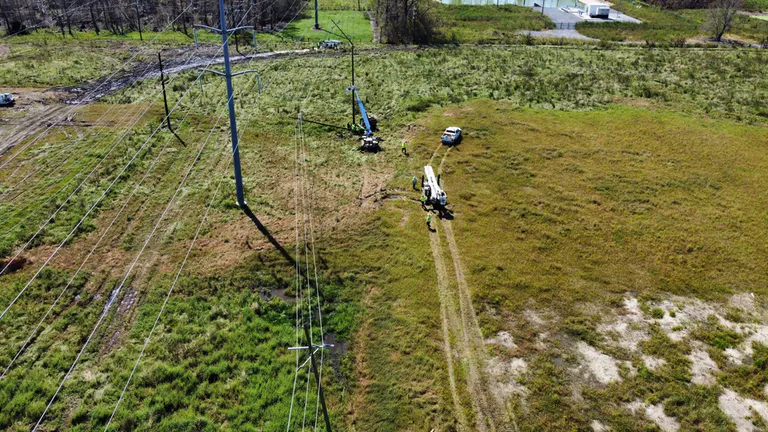 Unsung Heroes of Hurricane Ida
Hurricane season is an annual part of life for residents along the Gulf Coast. They truly understand the dangers. When Cat. 5 storms are predicted, they know there will be flooding, power outages, and catastrophic damages to homes and businesses. On August 29, 2021, the 16th anniversary of Hurricane Katrina, Hurricane Ida made landfall with sustaining winds of 150 mph.
Working a storm is part of the job and a way of life for linemen and women. They leave their homes and families to restore power in devastated areas, not knowing when they will return home. The job is extremely dangerous, and some workers lose their lives during storm work. Conditions are harsh, but linemen and women understand the powerful impact of their actions. They are the catalysts who bring hope and help to those who have lost everything. These men and women are often unrecognized first responders when disaster strikes.
PoleSet Equipment is proud to be part of the restoration efforts in Louisiana and surrounding states, providing vital track equipment to electrical contractors such as Henkels & McCoy, Inc. (H&M). When a time-critical response is essential, H&M's teams rise to the challenge, making damaged sites safe and restoring power. H&M performs both on-road and off-road powerline maintenance, construction, and storm work across North America. 
PoleSet Equipment already had several track machines working in neighboring states along the path of Ida before the storm hit Louisiana. As tracking models determined Ida would be near Cat. 5 in strength, these machines were retasked to provide storm aid to the hardest-hit areas. Calls for additional machines began coming in within days of Ida hitting the coast. By the following weekend, eight more machines were readied and sent to Louisiana to aid crews in restoration services.
The PoleSet Equipment track machines are operated by Radio Remote Control. This allows the crew members and operators to remain at a safe distance while transitioning or using the equipment. As opposed to being on a machine, operating it from a distance allows crews to minimize risk and enables the machine to push into very rough terrain — in any type of weather —  to get the job done. Where there is distance, there is safety.
Storm devastation and response in densely populated cities are often shown on television. However, the story of storm work in rural areas where the terrain is rough and the job is more difficult is often untold. With the right track equipment, linemen are able to safely and efficiently set poles and restore power in these remote rural areas.
Just as linemen and women are the unsung heroes when devastation hits, PoleSet Equipment and the off-road crews don't always make the headlines. The rugged design of PoleSet Equipment means it is primarily used in inaccessible and rural areas surrounding the more populated areas where you typically see the swarm of crews and trucks working along the main roads. 
These line crews work as a unit to serve a crucial role in restoring power to the region. The job isn't done until power is restored for everyone. Line crews working the towns and inner cities pick up the bulk of the customers that are out of power. Line crews working in rural areas often have the arduous task of getting access to off-road facilities in backwoods and cross-country lines to restore power to the outlying areas.
Trained crews working in tandem with the right equipment bring hope and light to the people of Louisiana and the gulf coast. Hurricane season isn't over, but rest assured, PoleSet Equipment stands ready to power up and help bring normalcy back to the region whenever necessary.
If you haven't experienced the PoleSet difference, we invite you to contact Matt Dove at [email protected] or call 412-335-3878
Power Up with PoleSet Equipment!