UTILITIES
PoleSet Inc. modeled its contracts with the power companies to provide off-road services and to provide equipment for storm trouble. Although there are several advantages using our steel track equipment, the competitive advantage is the access it provides to off-road challenges. Freshly cut trees on right of ways or stones pose a problem to most soft track or rubber track machines because it will damage or rip the tracks right off the machine.
With steel tracks, you have little concern over any condition. Sideling area up to about 30 degrees can be maneuvered with this equipment. We've traveled in areas over 45 degrees fore & aft. Most of our competitors won't attempt adverse terrain conditions. PoleSet Equipment offers a choice of aggressive tracks (additional grouser material welded on tracks) or spikes that can be added as needed by the operator to the track units providing additional traction when needed.
We normally run a triple grouser setup to control ground damage in less severe areas. These machines have the equivalent power of a Cat D4 dozer and can carry or pull several poles into locations at a time. These machines can tow wire tensioners or rope pulling trailers into remote locations with ease. A 4-drum rope puller (Smith & Wagner) is mounted onto one of our chassis. The work crews are overjoyed with this special rope pulling track machine and its ease of operation.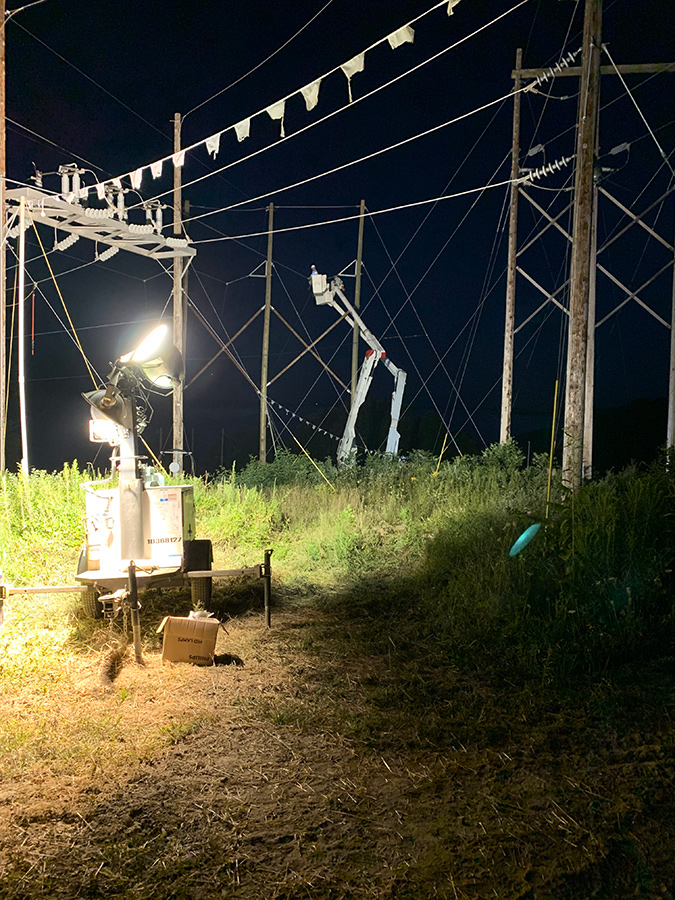 OIL & GAS
Transportation is always an issue with large equipment. However, when PoleSet started this endeavor it was always at the forefront of our design. The equipment was designed to be under a "permitted load" so that you never delayed a job because you can't get equipment there. The equipment is heavy, approximately 29,000 lbs., but you need that as ballast for the boom's operation (just like a ROAD truck). This weight enables you to have down pressure on the boom to dig rock and lift/ballast to set the larger poles.
PoleSet is strategically located within 20 miles of four of the top underground coal mines in the country. Additionally, the terrain in the region is rough and travel is difficult, which allows PoleSet to fully leverage its expertise and equipment.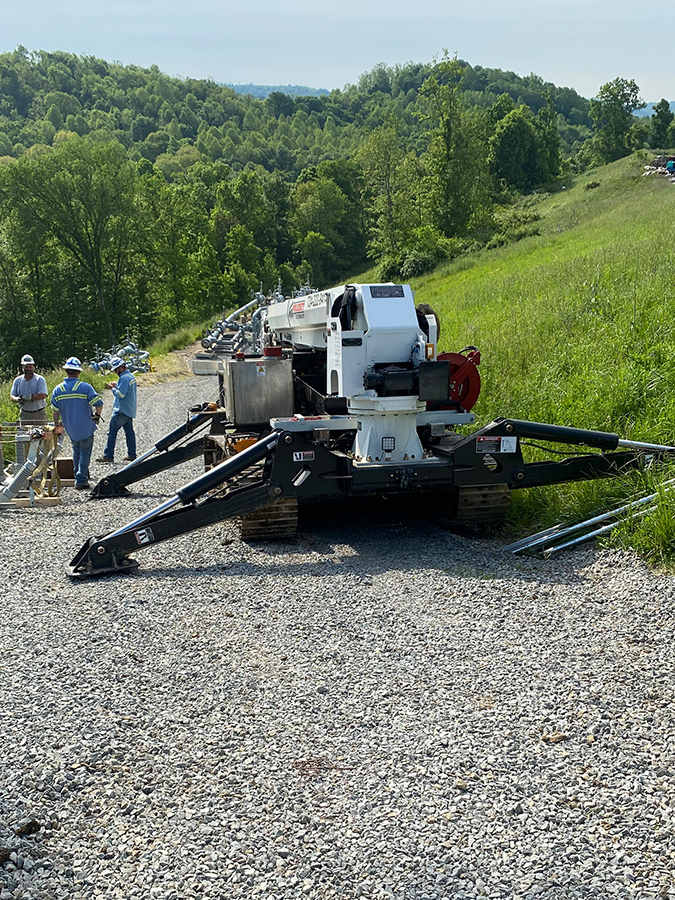 CONSTRUCTION
PoleSet Equipment rents and leases the equipment directly to the utilities and contractors. By expanding our leasing efforts and we have been leasing units to other power line contractors throughout a 10 state area. Contractors marvel at the special abilities of our equipment.
Primarily Poleset machines were designed for construction of 69kV lines and below. The majority of work is done in sub transmission applications
When we lease we can offer several options:
Deliver the unit to the end-user
Include a crew with the unit to work alongside the host company
Send an operator with the unit to train and operate the unit but not provide labor
Flexibility is the key to our success.