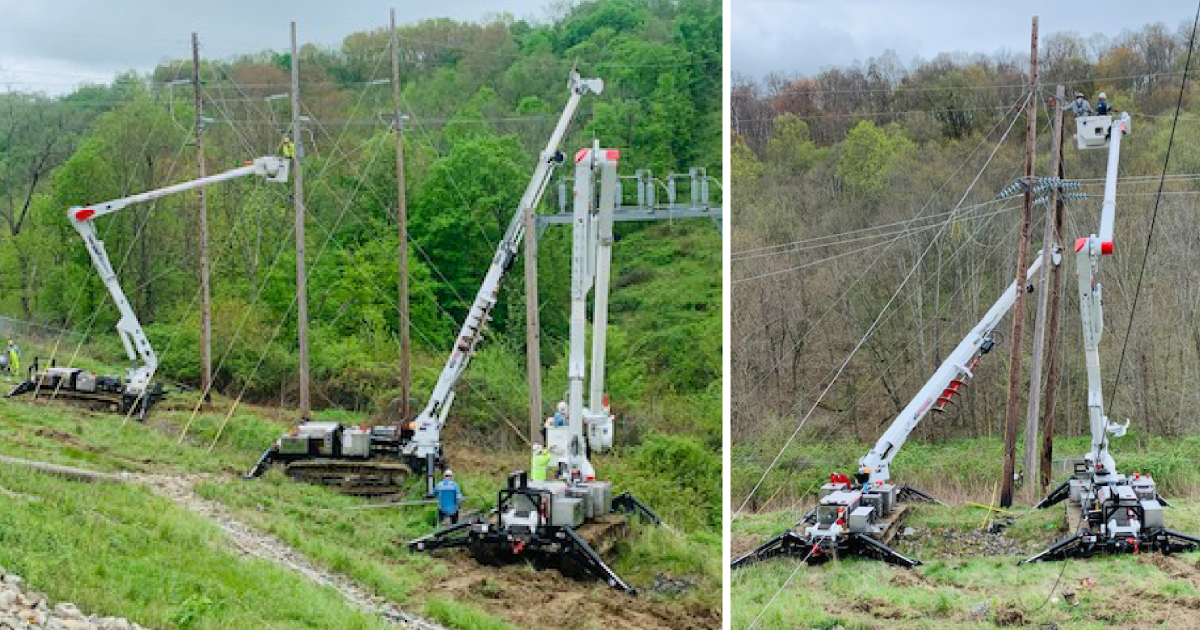 Why Do Companies Rent Track Diggers and Aerials From PoleSet Equipment?
There is a difference in off road equipment. Rough terrain has always presented challenges to companies in regard to the safety of their work crews and the protection of their capital equipment. The types of terrains vary from hills, mountains, forests, and valleys but the power lines must still be maintained in all types of weather.
Did you know the PoleSet Equipment was designed by Bruce Livingood who experienced firsthand how hard this work is?  To better serve the industry and help with a lineman's longevity, he took the full access booms (Altec&Versalift ) along with Caterpillar and combined the components into one machine on our low gravity engineered chassis. PoleSet Equipment brand features a remote controlled  Xtreme Polesetter II Track Digger and Xtreme Track Bucket II that provides a better solution to companies who want to improve employee safety, lower company costs, and protect the environment.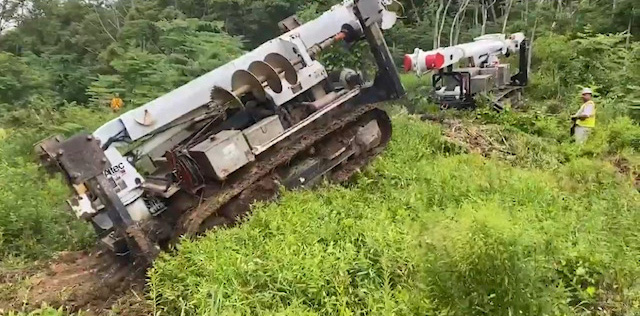 Companies benefit from utilizing PoleSet Equipment in rough terrain in many ways:
Employee Safety
The PoleSet Equipment machines are operated by Remote Control. It allows the crew members and operators to remain at a safe distance while transiting or operating the equipment. Operating machine from a distance instead of being on the machine allows crews to minimize risk and push the machine in very rough terrain in any type of weather.  Where there is distance there is safety.
Working off-road conditions can be unpredictable and hazardous.  Employees can remain at a safe distance while utilizing remote control to work the equipment. Operators can watch equipment movements with full view of operation.
The boom operator can be closer to the groundman while setting poles to provide for better communication and visibility of work. The remote control allows the operator to observe the operation from any angle as opposed to the groundman directing the operator and get into the optimal position to set the pole.
Equipment features can provide year-round operations. Independent of the weather condition, no waiting for the rain or snow to clear. The tracks can be outfitted with spikes or traction bars to provide the right degree of traction to get into any location without fear of slipping or sliding.
Full capacity, standard utility boom provides the same dielectric protection of your road trucks. The equipment's weight offers adequate ballast to operate the full capacity booms.
Manpower/Cost Savings
Smaller crew sizes, typical 2- or 3-man crews can set poles efficiently and effectively.
Time savings through mobility.   The equipment can be driven into most rough terrain locations without any prep work.
No access roads needed. The PoleSet equipment can traverse steeper and more sideling ground without the fear of tracks coming off or any significant ground damage.   To date, the equipment has never thrown a track on a jobsite.  We know first hand how important it is for minimum downtown.
Less maintenance or repairs on road trucks because company trucks are not being towed to the jobsite. Companies have experienced capital equipment savings using our equipment over the damage to road trucks being towed into remote work locations.
Full capacity, standard utility boom to conduct work. No compromise on drilling or lifting.
PoleSet Differences
We have found that equipment operators are more comfortable taking the equipment into rough terrain locations if they are not riding on that equipment.
Remote Control allows the operator more access and visibility around the equipment to achieve the optimal location for setting poles.
  Steel tracks with low center of gravity work best in snow, ice, rocky terrain, and rain allowing for uninterrupted work.
Accessibility and stability of steel tracks allows crews to set up without using a blade.
Can access poles without roads -4.5 psi ground pressure.
Our equipment to date as never thrown a track on jobsite.
The result for our customers – minimized operator training, minimal downtime, increased production , cost savings, and  remote-controlled to tram in and out of rugged terrain for ultimate safety!  If you haven't experienced the PoleSet difference, we invite you to contact Matt Dove at [email protected] or call 412-335-3878
Power Up with PoleSet Equipment!